Extra wide children's blanket Leopard Sand (double)

Extra wide double-sided children's blankets that are ideal if your child has to sleep in spreaders or plaster casts. In practice, the standard blankets turn out to be too narrow and your child gets cold and therefore sleeps less…

€ 59,95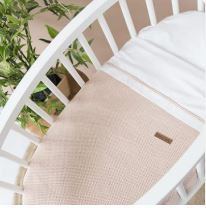 These luxurious, comfortable baby blankets from Baby's Only are made from soft knitwear and keep your baby nice and warm. The crib blankets have a size of 70 x 95 cm and the crib blankets are 100 x 135 cm. The colors of these beautiful baby blankets are coordinated with the colors of the crib sheets and bed sheets, so that you get a nice and quiet whole in your crib or bed.